Watching TV at different angles, especially above your eye position, often leads to strains on your neck, which is not good to experience.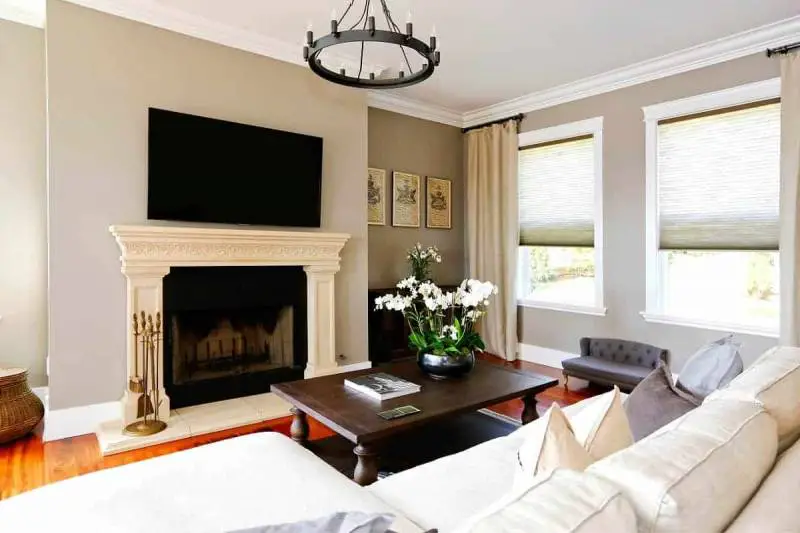 For this reason, TV mounts have evolved to become highly flexible to position your TV in as many angles as you wish. You no longer need to strain yourself while watching TV, be it in the kitchen, bedroom, living room, or a private cubicle. Besides, you save considerable space by making use of a TV mount in your home.
You can mount your TV on a built-in wall unit, outdoor lounge, kitchen backsplash, and over your fireplace mantel. Today we'll focus on the best TV mounts for over fireplace of 2021.
Best TV Mount for Over Fireplace of 2021 – Reviews
MantelMount MM340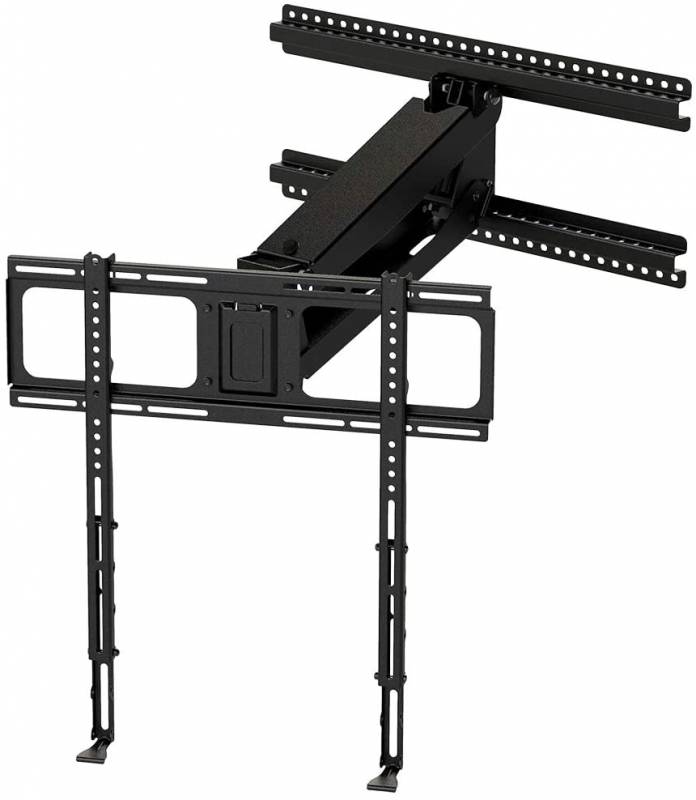 Straining while watching TV at home can be draining to your health, and it can be avoided by mounting your TV over the fireplace.
This wall mount allows you to lower or raise your TV height and adjust the viewing angle for a relaxed, ergonomic watching experience.
Review
Like its predecessor, the top-selling TMIA, the MantelMount MM340 is designed to be easily pulled from off the wall to the front of a fireplace at eye level.
This TV mount comes with pull-down handles which make it easy to adjust the TV. Adjusting the wall mount is done with minimal effort, making you fall in love with it, thanks to the dual gas pistons.
This wall mount has 30 degrees of swivel and vertical travel of 29 inches. It also has a cable management system to keep your cables organized and cable protectors that protect them from melting if the temperature is too high inside the fireplace.
This TV mount's gas pistons have auto-stabilization to ensure your TV is level at all times.
The manufacturer included several measures to ensure your TV does not hit against the walls while adjusting it to a position of preference. It features adjustable vertical and horizontal tensioners to ensure your TV does not hit the fireplace mantel. All these features work seamlessly provided your TV falls within the required category, 44″-90″ and 20-90 lbs.
This wall mount is made from heavy-duty steel, which makes it durable. Another good thing is that it has a patented construction design which makes it safe to use and guarantees quality.
Pros:
Easy installation
Adjusting the TV is fast and straightforward
Safety bolt and adjustment handles
Lifetime warranty
Accommodates a soundbar
Cons:
Does not accommodate the TV's power supply box
Bad customer service
Handles are wobbly
Mount-it! Fireplace TV Mount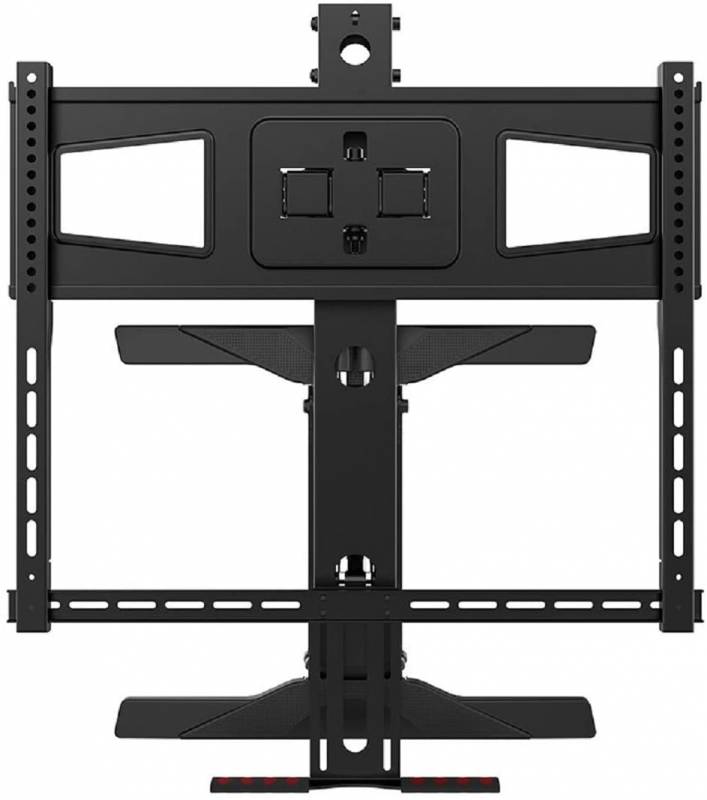 Mount-it Was also designed to solve the common problem that comes with mounting TVs over the fireplace. Incidentally, this mount was manufactured with users in mind in terms of budget-friendly and ease of use.
Review
This wall mount is designed with a pull-down mechanism to allow lowering of your TV to a comfortable viewing height and angle. It supports a wide range of motion which includes the swivel and off the wall movement. When idle, you can always raise it to sit in the original position above the fireplace.
This wall mount has a 27-inch height adjustment which is relatively good. Additionally, the mount can swivel 18 degrees, tilt 15 degrees, and rotate at 5 degrees, increasing its angular adjustment. The wide tuning range lets you watch TV from almost all positions in your home.
The counterbalance mechanism aids in raising and lowering the TV effortlessly. The materials used ensures smooth and tool-less height adjustment while the spring tension is adjustable to suit your TV weight, provided it does not exceed 75 lbs.
This TV mount is highly compatible with a wide array of televisions ranging from 40"-80". The compatibility is also dependent on the VESA pattern, as follows; 200×200, 300×300, 400×200, 400×400, and 600×400 bolt hole patterns.
The Mount-it! Fireplace TV Mount is strong and durable, thanks to the firm but lightweight metal. For this reason, this mount has a maximum weight capacity of 70.5 lbs, which is considerable, putting in mind its budget bracket. The design is also elegant, and for sure, you would choose it over other capable mounts should you be conversant with looks.
Pros:
Gas spring height adjustment technology
Smooth motion
Easy to use
Cons:
Manual
Does not support off-the-wall adjustments
Instructions on the manual are unclear
EchoGear Full Tilt TV Wall Mount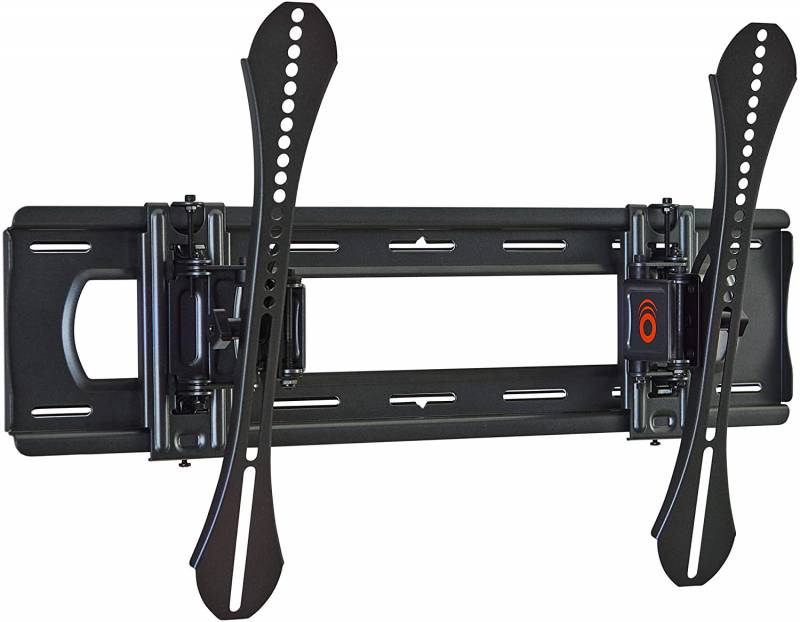 This wall mount brings TV watching to another level. You get to experience the maximum amount of tilt despite the size of your TV.
Review
The biggest takeaway for this TV mount is the extensive tilting without any negative experiences. The hybrid design allows the TV to extend up to 5.8″ from the wall, thus utilizing maximum tilt range and easing the accessibility of the cables. This mount will allow all TV sets to maximally tilt (15 degrees), including larger TVs.
Mount extension makes cable accessibility easy. What's more, it swivels 10 degrees left and right, which is unique and rare to find among a wide pool of TV mounts.
It is also extendable in that it gets you the best viewing angle when mounted over the fireplace mantel. It also has an extra-wide wall plate which allows screen placement adjustment after installation.
The manufacturer ensured that the EchoGear Full Tilt TV Wall Mount is diverse by making it compatible with most television brands such as Samsung, LG, TCL, Vizio and any other that pops in your mind.
Talk of its capability, it holds an incredible 125 lbs maximum weight. This weight falls in the 40"-85" range which is impressive. This TV Mount has a VESA Compatibility range of 200×100 – 600×400. Given the considerable load capacity, the TV Mount is expected to be constructed from heavy-gauge steel, making it pretty heavy.
Installation is very straightforward; the manufacture even added a hardware kit to make the whole process easy. The hardware kit has a wide assortment of spacers and screws to accommodate any television brand. A wall drilling template is also included in the package.
This wall mount has a horizontal shift which is very useful when centering your TV after installing the wall mount. In addition, you can level your mount to get a faultless finish.
Pros:
Easy install
High-quality steel material for construction
Wide compatibility
Holds more weight
Delivered with a hardware kit for easy installation
Cons:
Does not pull down
Considerably bulky
Mounting Dream TV Wall Mount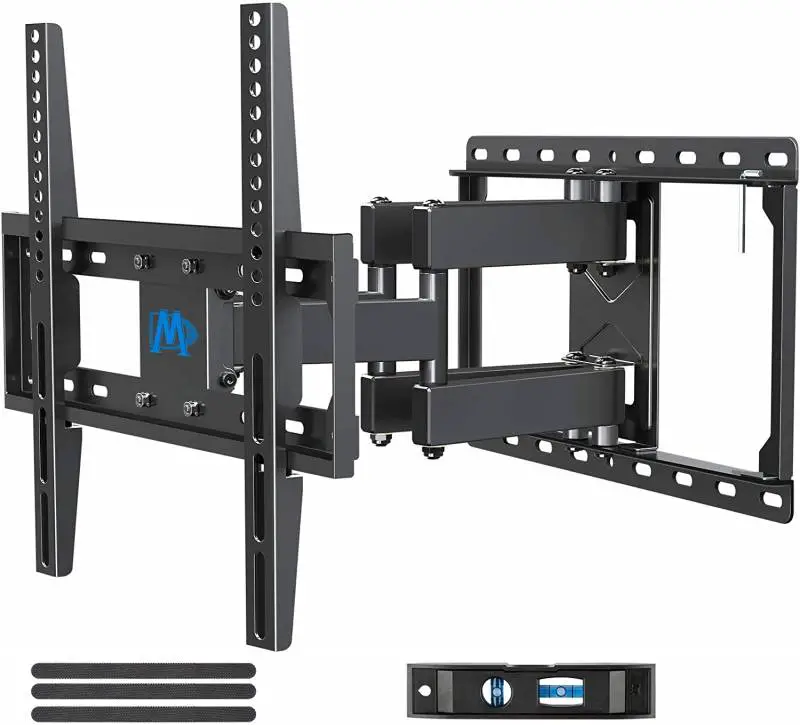 This universal, full-motion TV mount for your small and average-sized TVs is what most people require over the fireplace at home.
It might not be the premium TV mount that people dream of, but it gives your TV the maximum support needed as long as you install it properly.
Review
The robustness of the Mounting Dream TV Mount ensures it holds TVs weighing up to 99 pounds while ranging between 32 – 55 inches. The robot welding technology guarantees the stability and safety of your TV. Additionally, it has a maximum VESA standard of 16″ x 16″ mounting holes spaces. And, should your fireplace mantel be in a corner, this TV mount is ideal for you.
Mounting Dream TV wall mount is highly flexible, which gives you an upgraded viewing experience. It lets your TV tilt upwards by 5 degrees and downwards by 15 degrees. This tilting is vital in reducing glare.
The dual arms make it is possible to pull out your TV to 15.2 inches and retract it back to 3 inches which saves space when idle or increases the diversity of sitting positions when viewing. Still, on flexibility, you can swivel your TV left or right depending on the seating arrangement in your home.
The installation is pretty straightforward, and you do not need any experts to help you. The wall mount comes pre-assembled, making your work considerably easier. The most important thing you have to do is drill the studs before driving the lag bolts to secure the mount on the mantel. If needed, the concrete anchors will be shipped together.
The US-based customer care is excellent. Finding customer support who are willing to answer all your pre and post-purchase queries deserves appreciation. The installation guide that includes pictures is clear and rarely will you reach out to the customer support team on installation issues.
After installation, you can freely move your TV up and down, left or right, as you wish. An adjustment of up to 3 degrees allows you to level your TV after installation. The package has mounting hardware, a basic mounting template, a level, and a free six-foot HDMI cable. After delivery, you will only need to install the mount and get your TV over the fireplace.
Pros:
Budget-friendly
Heavy duty
Includes all mounting hardware
Easy installation
Cons:
Cannot be mounted solely on a drywall
16-inch Arm extension is relatively small
Everstone TV Wall Mount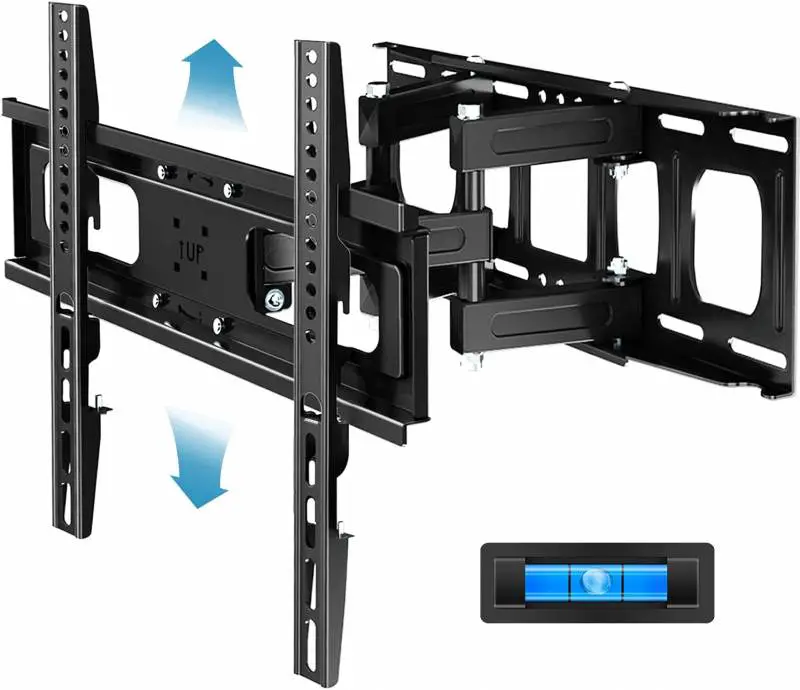 Well, if you have been scrolling through looking for an average heavy-duty wall mount to hold a moderately heavy TV without minimizing convenience, scroll no more.
The Everstone TV Wall Mount could not be left out on the Best TV Mount for Over Fireplace. Though it may not be pulled down to eye-level after installation, that is substituted for broader motion adjustments and a friendly price.
Review
The Everstone TV Wall Mount can hold a maximum of 88 pounds. The dual arms, which come in two combinations (4 arms and 2 arms), are an assurance that your TV is safe. This TV Mount is compatible with vast televisions of sizes 26 – 60 inches and fits the VESA standards up to 400 x 400 mm.
This full-motion TV mount tilts up by 3 degrees and down by 15 degrees for antiglare. Furthermore, it can swivel either left or right by 180 degrees which increases the viewing angles. When in use, it can be extended up to 14 inches and retracted back to 2.65 inches from the wall when not in use.
These adjustments make this TV mount fit perfectly in most sitting arrangements and thus less bothersome during and after installation. You do not have to rearrange your living room to match the TV alignment; instead, you will just tilt and swivel it to suit your living room. You have a 3 degrees level adjustment after installation.
Installation is pretty direct and within 30 minutes, your TV mount is up. Mounting is strictly on studs (8 – 16 inches) and concrete walls. You should feel comfortable when installing, given that this TV mount comes with the hardware required. Again, you get a free six-foot HDMI cable, 3x cable ties, and three-axis magnetic bubble levels.
Pros:
5-year warranty
Rotates and tilts
Variety of screws and bolts for installation
Heavy duty
Cons:
Initial movements are stiff
Supports less weight
Final Verdict
When choosing the ultimate TV mount, consider a variety of features. The Best TV Mount for Over Fireplace that we have highlighted touches on most of these features, thus helping you choose the best mount for your TV.
First and foremost, look at the full range of capabilities. What can this TV Mount do and what can it not do? Will it rotate, swivel, tilt, extend, or be pulled down? With this in mind, get to your ladder of needs and choose the ideal one.
Also, check on the size and weight of your TV. With this, you will find a wall mount that matches your TV. You also need to be conversant with the installation process of the TV mount. Is the installation time worth your money? Finally, you need to check on the price and warranty.
Having all these in mind, if you are looking to get an over fireplace TV mount that can be pulled down when in use, go with the MantelMount MM340, despite its price range. It will serve you right and you might never look back. Similarly, get the Mount-it! Fireplace TV Mount if your budget is smaller.
In case you need a TV Mount for over fireplace with minimum movements, the Echogear is the perfect choice for you. However, if you want your TV Mount to have a wide range of motion and adjustments, go for the Mounting Dream TV mount or Everstone TV wall mount if you are budget-constrained.