For many people, exposed screw ends are a no-no regardless of the design they are going for. Simply put, no one wants their design to be negatively affected by exposed screw ends.
It is more so the case when dealing with DIY projects that involve repairing old cabinets. The same also applies when installing new cabinets.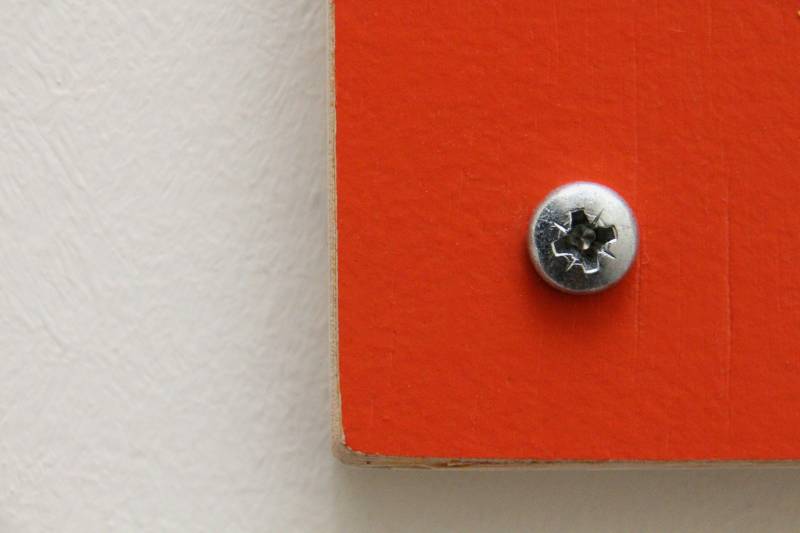 Fortunately, dealing with exposed screw ends is not that hard; it's very simple.
To show you just how simple it is, this post will look at how to cover exposed screw ends.
Different Ways of Covering Exposed Screw Ends
There are several ways you can go about covering exposed screw ends. However, not all of them work. Even worse, some are extremely hard to undertake as a DIY project at home.
That said, this particular post will look at ways that are not easy to undertake or do but are also very effective.
While they are effective and very easy to carry out, some of these methods are not that popular, while others are very popular.
To break it down the right way, these methods are grouped under popular and not-so popular ways of covering exposed screw ends.
Common Ways of Covering Exposed Screw Ends
Place Them Out of Sight
Replace The Exposed Screws
Using Other Parts
Nail Punch
Counterbores & Plugs
1. Place Them Out of Sight
Making sure that screws are placed out of sight is very important. It is especially so if you don't want to deal with exposed screw ends in your home or office.
There are many positives to this method. For starters, it's an easy-to-do DIY project. Even better, it is very easy to understand.
In addition, it allows you (if needed) to use screws that actually don't fit without worrying about exposed screw ends.
Ideal places include the underside of a kitchen cabinet or a tabletop. If possible, you should definitely consider placing them on the back face of your cabinets.
If you are working on a DIY project, you'll be forced to bring down your cabinets completely. Once they are down, drill new screw holes at the suggested areas and then screw them in. It should do the trick.
2. Replace The Exposed Screws
The reason why most people end up having exposed screw ends is using the wrong screws. To put it simply, they use the wrong screw length.
Using screw lengths that don't match the screw hole will always lead to exposed screw ends. If this is what you are dealing with, the solution is a very simple DIY project. Start by removing the object with the exposed screw ends.
For this particular, we'll focus on tabletops and kitchen cabinets, so in this case. For instance, kitchen cabinets, start by taking them all down and remove the screws with exposed ends.
Now measure the length and make sure you go out and get the correct screw size. It will completely do away with the issue that is exposed screw ends.
3. Using Other Parts
One way you can easily cover exposed screw ends is by using other parts. It is an ideal and easy-to-do project, especially if you are not interested in a DIY project that'll involve completely taking everything down.
So, what other parts can you use to cover exposed screw ends? Well, one ideal part or product is molding. You can use different types of molding to cover all unwanted and exposed screw ends.
There are a few things worth noting with this particular method. For instance, once you cover up the exposed screw ends using other parts, it'll be difficult to locate them.
It is more in the case of using the correct type of molding to cover up exposed screw ends.
4. Nail Punch
Nail punch is a handy tool when it comes to covering exposed screw ends.
Fun fact, many of you probably have a nail punch in your home. It is especially so if you love doing DIY projects. With a nail punch, you will be able to do away with exposed screw ends easily.
How? Well, take your nail punch and punch the screw further in. To make the area even more appealing, you can add things like plugs.
5. Conterbores & Plugs
Counterbores are ideal when it comes to covering exposed screw ends. Counterbores don't necessarily cover exposed screw ends.
They do, however, drill pilot holes, countersink, and counterbores in one go. These holes are ideal if you are interested in covering exposed screw ends with other things. Ideally, it would be best if you looked into creating big enough holes with your counterbore.
Once you have the perfect size hole, you can use plugs to cover the exposed screw ends.
Plugs are perfect when it comes to covering exposed screws. They perfectly cover them up and they also come in a range of colors and designs.
We have a face-grain plug, button plug (probably the most common type of plug), contrasting plug, and end-grain plug, for starters.
Even better, it is possible to make your very own plugs with the design that best matches what you are looking for.
Worth pointing out when using plugs, it is best to avoid contrasting plugs. This is important if you are still new to all things design and plug. Why, well, it can easily interfere with the look that you are going for with your overall design.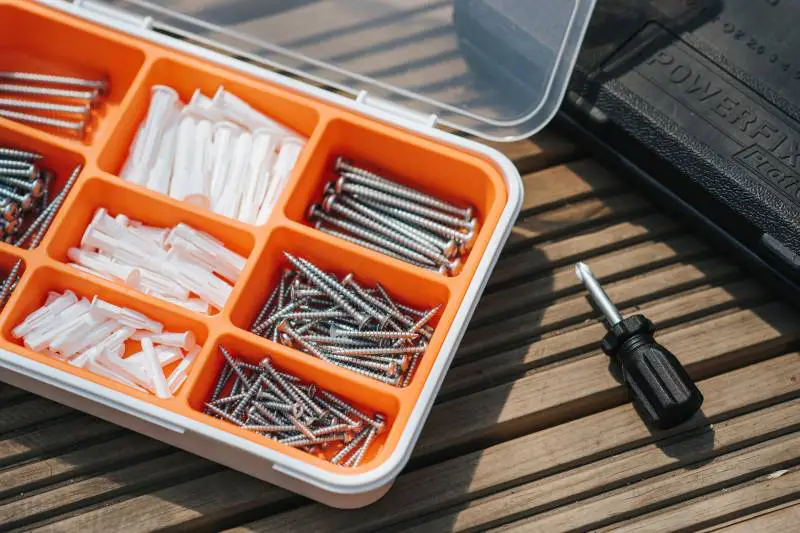 Aggressive Approach To Cover Exposed Screw Ends
If you are after a more aggressive way of dealing with exposed screw ends in the office or in your home, this section is definitely for you. If you don't fancy doing a little hard work, it might not be the section or method for you.
1. Grind the Exposed Screw Ends
Grinding is top on the list of aggressive approaches in dealing with exposed screw ends. Yes, you can do away with exposed screw ends by grinding them.
This method is ideal if you are concerned about exposed screw harming someone. When grinding exposed screw ends, the goal is to nip them as close as possible.
This way, they'll not only be less visible, but it'll be difficult for them to hurt or injure anyone.
2. Hammer Them In
If you are unable to grind the exposed screw ends, you can consider hammering them in. Of course, you'll need a hammer for this, but you must be careful while doing it.
You don't want to damage the surroundings in any way. You can alternatively use another screw or a nail while hammering the exposed screw end in.
3. Using A Metal Blade on A Multi-Tool
A metal blade on a multi-tool is another item you can use to deal with an exposed screw end(s). Once you are done you should consider using something like a blob of silicone to cover up the area around the screw.
Conclusion
There are many reasons why you would like to cover up exposed screw ends. It can be because it's messing up a particular design, or maybe it might cause harm to other people.
Regardless of the reason, you should cover just about any exposed screw ends with the methods and ideas shared in this post.
If there is a method or an idea that you believe deserves mention in the post because it works so well, feel free to share it with us in the comment section below.