Now that the fall has arrived, I decided to take another look at my garden. Like every other typical male, I tend to look at something I have done and think "How can I make that Bigger & Better". Currently I have 8 raised garden beds that work just fine, but we are looking to increase the amount of space we currently use.
If you recall in a post from last year, We created some really nice raised beds from scrap wood we had laying around. Although this has worked out extremely well for us, I am exploring alternative ideas and designs for next year. As you all know, whenever my imagination takes hold, I like to share my research with all of you in order to help you and your decisions.
Related: Check out my building plans for cheap raised garden beds
My first step was to go through Google images and see what and how other people were going about building their beds. There are a ton of great iteas using everything from pallets, stone, cinder blocks and more. I also try tried to avoid commercial sites and really dive into projects that people have thought of themselves. It never fails to amaze me how talented and ingenious some people are.
Note: If you decide to make beds out of pallets, make sure you are using clean and heat treated pallets to avoid contamination. Don't skimp on food safety.
I picked the most interesting designs and listed them below. Enjoy. (Dont forget to send us pictures of your own projects!)
1. Pallet Garden Beds
I am a pallet addict, if there is a project that I can build from these free lumber bundles, I'm all over it. Here is one of the best jobs I have seen utilizing pallets. On their blog, they illustrate how to build these beds step by step. Tons of great photos. Check them out here Pallet Garden Beds
2. Pallet Garden Beds on HomeTalk
Here is another awesome job that Dennis from NH built. Constructed from a combination of used pallets and regular lumber, this design is deep enough to hold up those plants with deep root systems. These beds may look difficult to build but in actuality, the plans are fairly simple and straight forward. Take a look at the image below where he added a PVC cover to protect young plants. Garden Beds From Pallets
And the PVC Greenhouse cover!
3. World's Most Simple Pallet Garden Bed
Sometimes we can over think things, not this fellow. Want a simple garden bed without the hassle, check out this neat idea. Just drop and fill with dirt. This concept is great for leafy vegetables with smaller root systems. Simple Pallet Garden Beds
4. Raised Garden Bed on Legs
The older I get, the harder it is to bend down for long periods of time. For my fellows with the same problem, here is a great idea. Build your garden beds on legs. This alleviates the need to work on your knees. This simple construction consist of 4×4 posts and 2×10's. Check out the instructions here Raised Garden Beds on Legs
5. Elevated Garden Beds
Similar to the one above these raised garden beds on legs are great for patios as well as the garden. Ana White's site includes full plans and shopping list to make these wonderful planters. Counter Height Garden Beds
6. Corrugated Metal Garden Beds
Lets face it folks, wood rots. If you are looking to build something that will last season after season, you might want to consider using non-degradable materials such as steel. Corrugated metal adds a great rustic look to your garden and it will last forever. Take a look at their site on how they built these beds.  Corrugated Metal Garden Beds
7. Beds Made From Landscaping Timbers
These beds have an attractive rustic appeal to them. Made with landscaping timbers, just another example of using non traditional building material to build your raised garden beds. Garden Beds Made With Landscaping Timbers

8. Add a Short Fence
I have a serious problem in my garden, my cat loves to go potty in my fresh dirt. Building a short fence above your beds can keep out pets and vermin. Made with 1×1 lumber and chicken wire, this is a great idea. Raised Garden Bed with Fence
9. Raised Garden Bed With Top Fence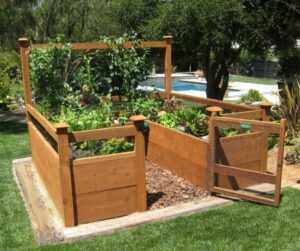 Looking for a resource where you can download several plans? Check these guys out, they offer plans for several bed designs. Raised Garden Bed Plans
10. Raised Garden Beds From Railroad Ties
Here is a nice alternative and cost effective also. Build your beds from old railroad ties. This company sells the ties and will deliver. You may also be able to find somewhere local to get them for free. Raised Garden Beds from Railroad Ties
11. Raised Garden Beds Made With Cinder Blocks
Are you looking for something that will outlast you? How about building your beds out of cinder blocks. Personally, I'm not a fan of the look, but you can always paint them. Check out this site, the have a ton of pictures that they took during their build. Cinder Block Garden Beds
12. More Cinder Block Garden Beds
Here are some more images I found to help spark your imagination.