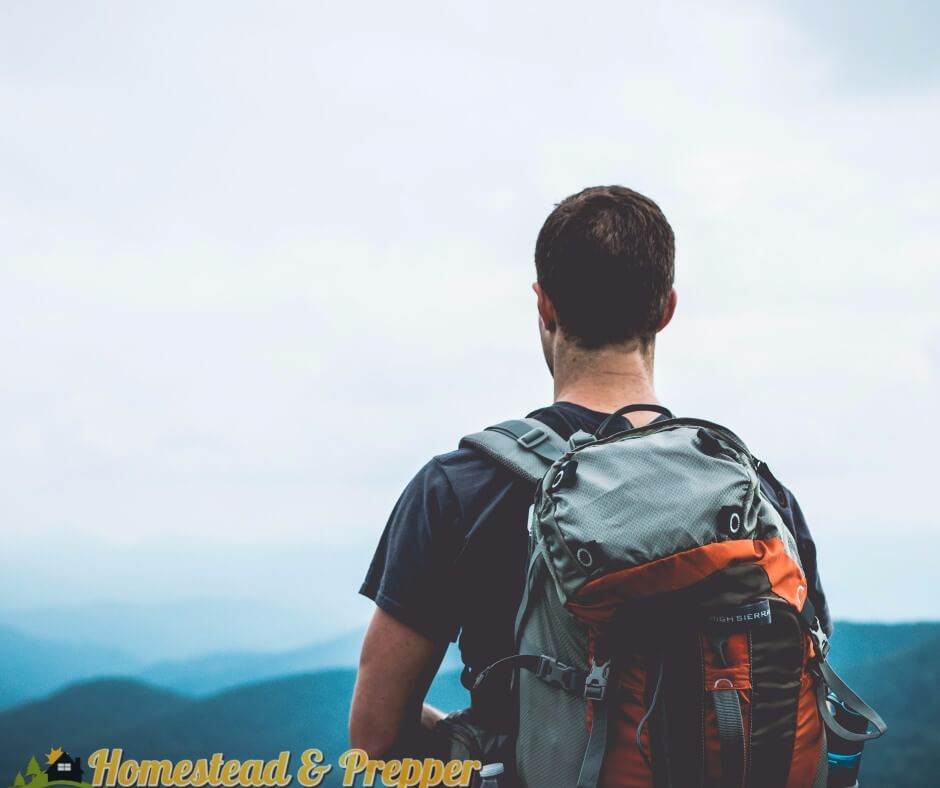 A good bug-out bag can mean the difference between life and death in an emergency.
Too much gear may slow you down, but too little equipment may leave you incapable of survival. If you needed to leave your home with only a three-day pack, would you be prepared for the worst-case scenario?
This article will explore the features you should look for, items you should consider bringing with you, and help you choose the best bug-out bag.
It's always preferable to 'bug in' if at all possible, but when it becomes too dangerous or impractical to shelter in place, a good bug-out bag or B.O.B can be indispensable.
Although each individual will probably have specific features they like in a pack, there are several universal qualities that every good bug-out bag will share.
Namely, you need to look for a bug-out bag that can hold several days' worth of supplies, clothing, food, and water.
It needs to be able to handle a certain amount of abuse.
It needs to be comfortable to carry, and it should have a useful and versatile design with pockets that can comfortably house your equipment.
What is a Bug-Out-Bag?
It is a long-term survival kit that includes all the essential items to keep you away from danger for as long as possible. It also helps you to get out of danger. Also, it has other names like the get out of dodge bag (GOOD bag), I am never coming home bag (INCH bag), bail out bag, personal emergency relocation kit (PERK bag), 72-hour kit, go bag, and many more.
Generally, a bug-out bag contains enough items and tools to last you 72 hours and maybe even longer. You can think of a bug-out bag as buying a custom suit in which you get everything according to your preferences and needs. 
There are 7 rules to consider with a bug-out bag:
A comfortable weight that can carry around 25% of your body weight.
"Grey" is the preferred shade to better adjust to the surroundings.
Keep it modular
More friends with bug-out bags to carry more gear.
A safe location that is far enough from the danger zone.
Don't forget to include medications in your bag.
Do the research and only equip important items in your bug-out bag.
| Product Image | Product Name | Our Rating |
| --- | --- | --- |
| | Fox Outdoor Products Field Operator's Action Pack | 9/10 |
| | 5.11 Tactical Rush 72 Backpack | 8/10 |
| | Condor 3-Day Assault Pack | 8.5/10 |
| | | 7.5/10 |
| | Explorer Tactical Gun Concealment Backpack | 7.5/10 |
How to Choose a Pack
Carrying Capacity
Choosing a pack that is small enough and light enough to carry comfortably but can carry three days' worth of supplies can be challenging.
A good quality pack will make the most of its internal storage areas, but will also have expandable exterior pockets and should also have some way of attaching additional gear such as D rings or webbing loops.
If you decide to go for a smaller pack, it's advisable that you choose a pack with an integrated water bladder, such as a Camelbak, or use a hydration belt to ensure you bring enough water and will still have room in the pack for some gear.
Small packs are a smart choice for children and may also be more comfortable for adults with a small frame or health issues that would prevent them from carrying a large pack.
If you choose a larger pack, see if you can try it on in person before purchase to ensure it sits comfortably. Consider spending a little more for a pack with a frame – either internal or external – and a waist belt to distribute the weight of your gear comfortably.
Remember that you may need to carry your gear for an extended period and that the maximum weight of your equipment should be no more than 15% of your body weight.
Ruggedness
Hard-wearing fabrics and large-toothed, reliable zippers are necessary rather than a luxury when it comes to a good bug-out bag. If your pack can't withstand the elements, or if the zipper is easily breakable, it may not last under emergency conditions.
Ensure that the pack you choose is made from tough fabric and is well constructed with solidly attached straps and zippers that will not snag or break under pressure.
Versatility
A good pack will have lots of useful pockets and will be highly versatile.
Although a lot of hiking packs seem like a good choice of pack given that they are designed for lots of gear, are durable, and have fantastic frames for distributing weight, they are typically top load packs which means you will need to unpack all of your gear to reach items at the bottom. This may be impractical in an emergency.
Maybe you plan on using your pack as your primary luggage when you go out of town or for outdoor recreational activities like hunting or camping. If this is the case, make sure the pack you choose is highly adaptable.
Many packs allow you to remove or store the straps so that they become a soft-sided carry-on bag. Even if you plan to use your bag solely for emergencies, make sure it can adapt to a variety of uses and carry a wide range of supplies. You never know when your needs will change, and your pack should be adaptable to those needs.
Hydration
There are ways to filter or make water safe to drink, but the easiest way to ensure you have clean fresh water during an emergency is to carry it with you.
It's advisable to get a pack that allows you to take a suitable water quantity in a hydration bladder or water bottle.
Keep in mind that water is heavy, and the more water you plan to carry, the more support you'll need.
Large packs with high-capacity hydration bladders should also have an internal or external frame and well-padded shoulder straps.
Packs
Below are the five best packs currently on the market based on the criteria listed above.
These bags are either specifically designed to be used as bug-out bags, tactical military bags, or hiking packs and are capable of carrying enough clothing, food, water, and other gear to last for at least three days.
Whatever pack you choose, be sure to do your research, read reviews, and evaluate each pack based on your specific needs.
1. Fox Outdoor Products Field Operator's Action Pack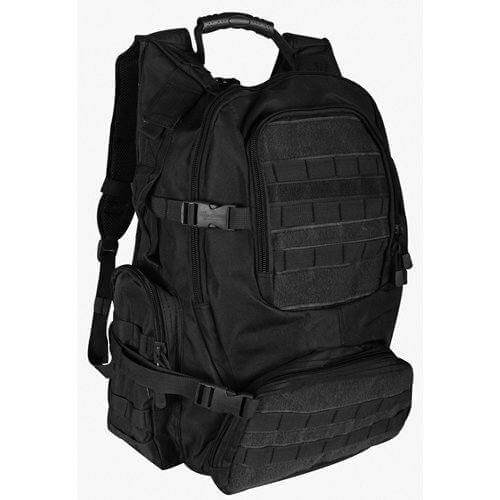 The Action Pack is one of the more affordable bags on the market. It comes in a very wide variety of colors as well, including hunter orange.
At 3168 cubic inches, it's larger than it looks with a large main compartment and several well-designed side pockets. The shoulder straps are ergonomically designed to make for an easy carrying experience.
The material itself isn't as rugged as the other packs on this list and you may not get as much usage out of it as you would with other bags.
Pros:
Low price point
A great option for anyone on a budget
Large internal capacity
MOLLE webbing
Cons:
Seams are not reinforced, and pockets may rip
Material somewhat poor
2. 5.11 Tactical Rush 72 Backpack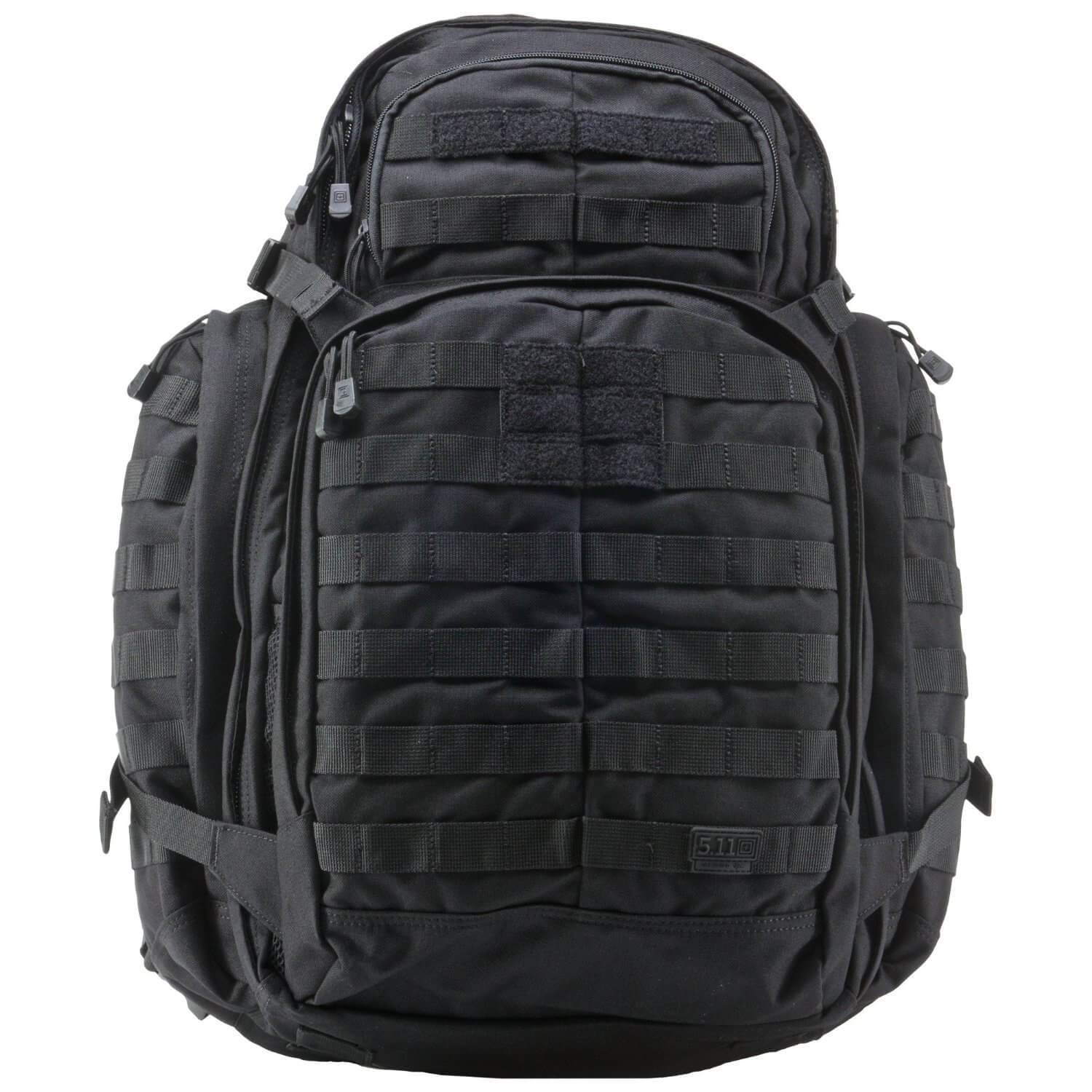 Constructed of water-resistant 1050-denier nylon, this pack is a workhorse designed to withstand heavy usage.
It's one of the pricier packs on the market. However, the quality is unmatched.
Used by police and firemen out in the field, it's designed to make the most of its 2894 cubic-inch interior. The outer section of the pack is designed to clamshell outward to create a quick access stuffing compartment for jackets or other bulky gear.
One of the best features is the heavy-duty YKK zippers throughout.
Pros:
Clever, easy-access stuff compartment
Heavy-duty zippers
High-quality materials and stitching
Cons:
One of the more expensive 3-day packs
Although the suspension of this pack should suit most people, on tall or broad-shouldered individuals, the yoke may cause some neck discomfort
3. Condor 3-Day Assault Pack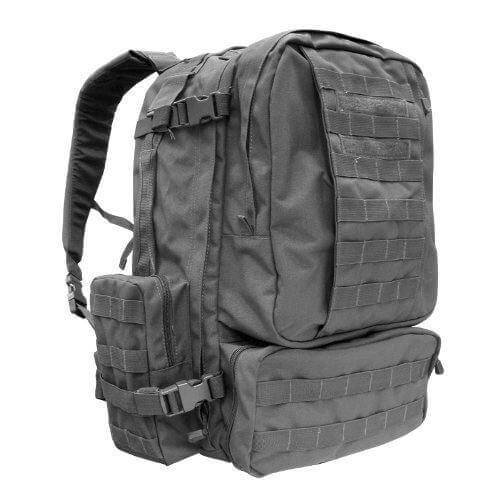 At 3038 cubic inches, this pack can carry an impressive amount of gear.
A cleverly designed internal frame system and heavily padded removable kidney belt two 3L hydration bladders.
You may notice that this pack is nearly identical to the original Camelbak BFM and shares the same great details, such as two-way heavy-duty zippers on the main compartment, internal compression straps in the main compartment, and a heavily padded yet breathable back, and more.
Coming in at the middle of the pack for both gear volume and price, this is a great bag for most.
Pros
Large, easily accessible main compartments and well-designed smaller pockets
Heavy-duty yet removable kidney belt with lots of padding
Lots of room for hydration bladders
Cons
It may be too large for older children or small adults
Check pockets and seams carefully, as some of these packs have been known to fray at the seams after light use
4. Exos Bravo Tactical Assualt Backpack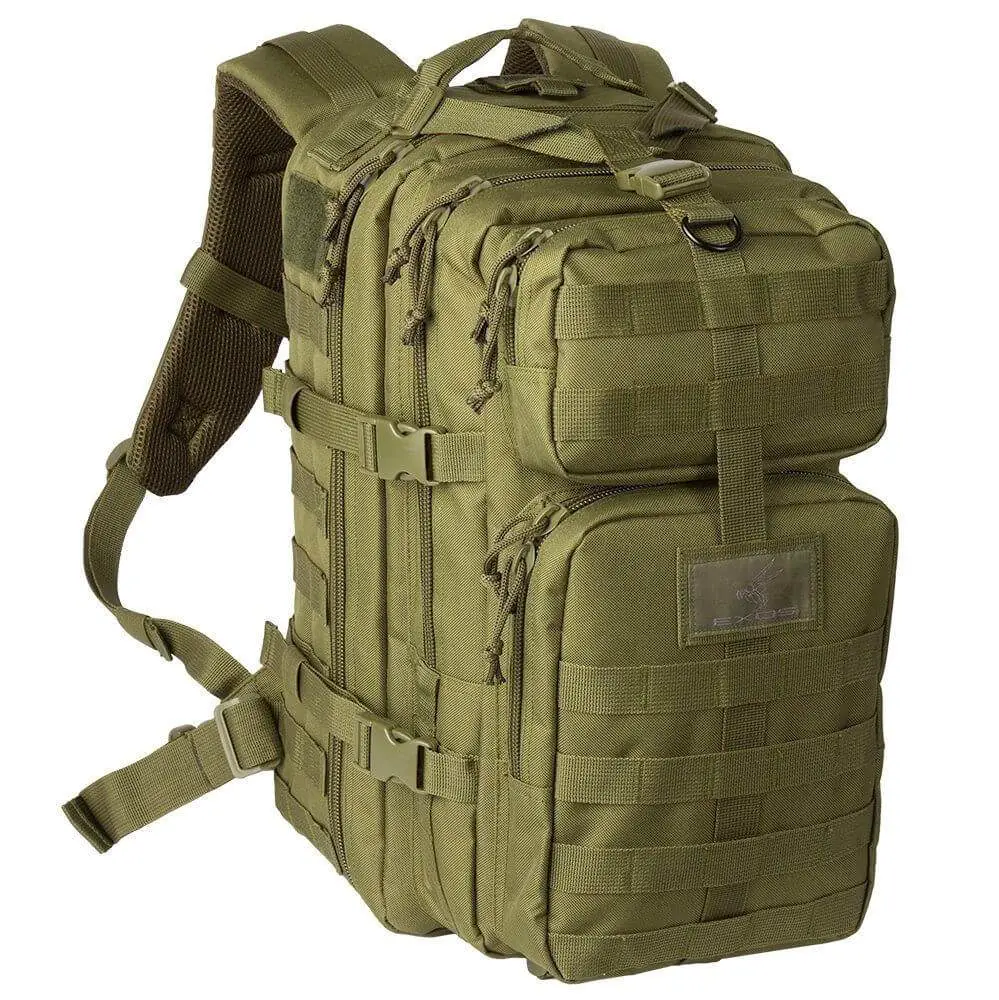 The Exos Bravo has a relatively small footprint but has an internal capacity of 2073 cubic inches and MOLLE webbing that allows additional storage packs.
The pack is essentially a series of large, flexible zippered pockets that can be compressed with straps when not in use. It has an integrated hydration bladder pocket and well-padded straps.
Unfortunately, it lacks an internal frame, and although it has a waist strap, it is not padded.
Pros:
Inexpensive compared to similar packs
MOLLE webbing allows for expansion if more room is needed
Well thought out compression strap system so that if the pack is nearly empty, it can be cinched to a very low profile
Cons:
Lower capacity interior than other 3-day packs, and may be too small for some
5. Explorer Tactical Gun Concealment Backpack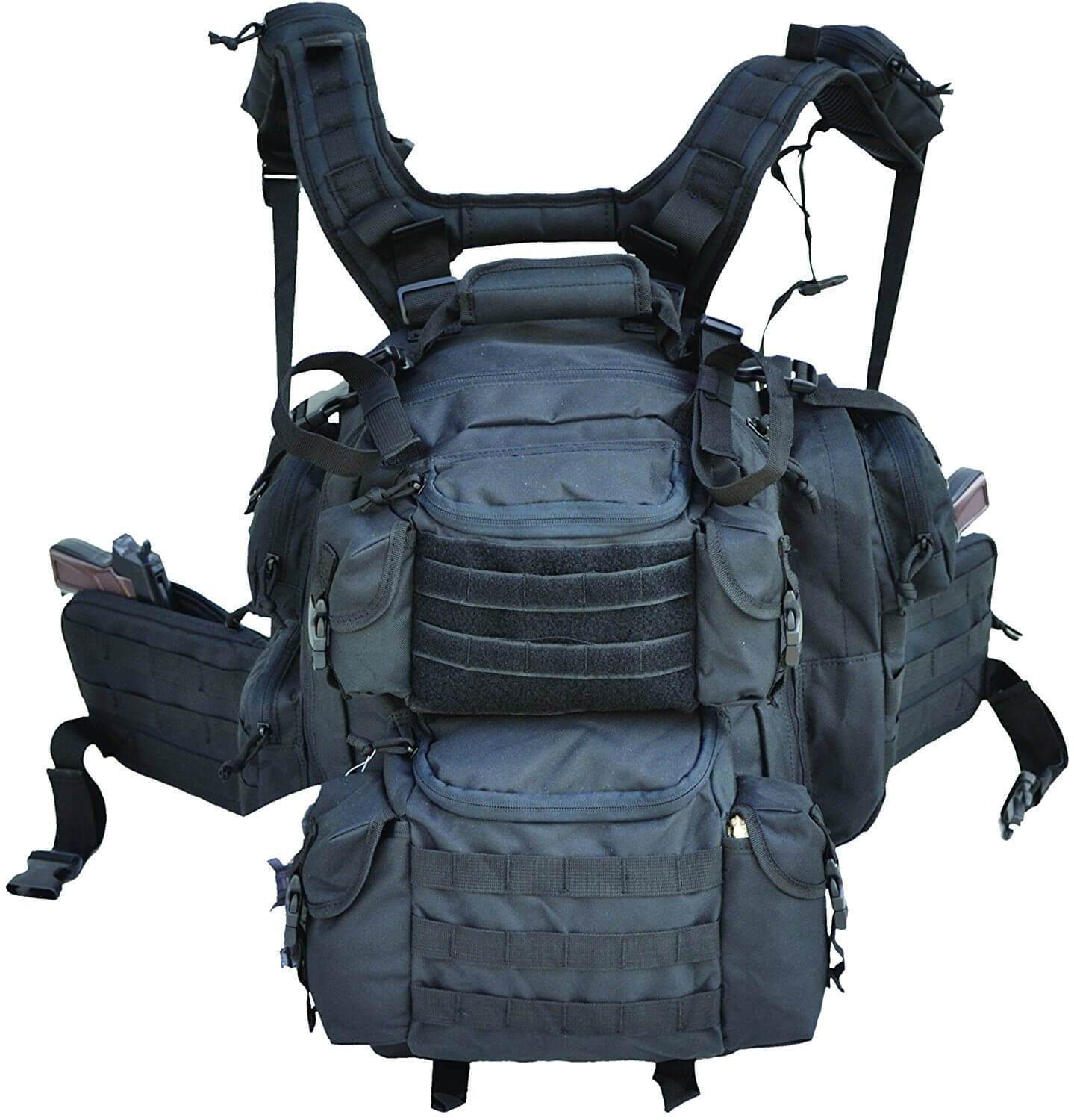 As you may have guessed by the name, one of the key features of this MOLLE style pack are the specially designed pockets on the hip strap that can easily hold a handgun.
It does have a space for a hydration pack. However, it is a smaller compartment than comparable bags.
The shoulder straps leave something to be desired, and the zippers could be of better quality, but as one of the lower-priced three-day packs on the market, this is still a good option for anyone on a budget.
Pros
Inexpensive compared to similar packs
MOLLE webbing allows for expansion if more room is needed
Well thought out compression strap system so that if the pack is nearly empty, it can be cinched to a very low profile
Cons
Yoke design may be uncomfortable for some
Weight distributes lower on the back than other packs, which may make it less comfortable for heavy loads
Conclusion
The pack you choose will depend on many personal factors, and any of the five listed here would make a serviceable three-day pack.
For a high-capacity, heavy-duty pack, the Condor 3-Day Assault Pack can't be beaten. At the same time, individuals interested in a small, lightweight option may find the Exos Bravo Tactical Assault Backpack more to their liking.
Overall, however, it's hard to beat the utility, ruggedness, and space available in the 5.11 Tactical Rush 72 Backpack. The attention to detail in its design makes it the best bug-out bag on the market. It's hard to find fault in any of its features, and the only downside is the hefty price tag.
Whatever pack you choose, it's essential to carefully think about what you will need to carry with you during an emergency.
Pick a bag with plenty of room for water, a reliable and comfortable suspension system, and the right amount of room for gear, and you'll be prepared for just about anything.
Now that you have picked the perfect bag, it's time to fill it up!
Check out our tutorial: How to build a bug-out bag
You may also like How to build a get-home bag